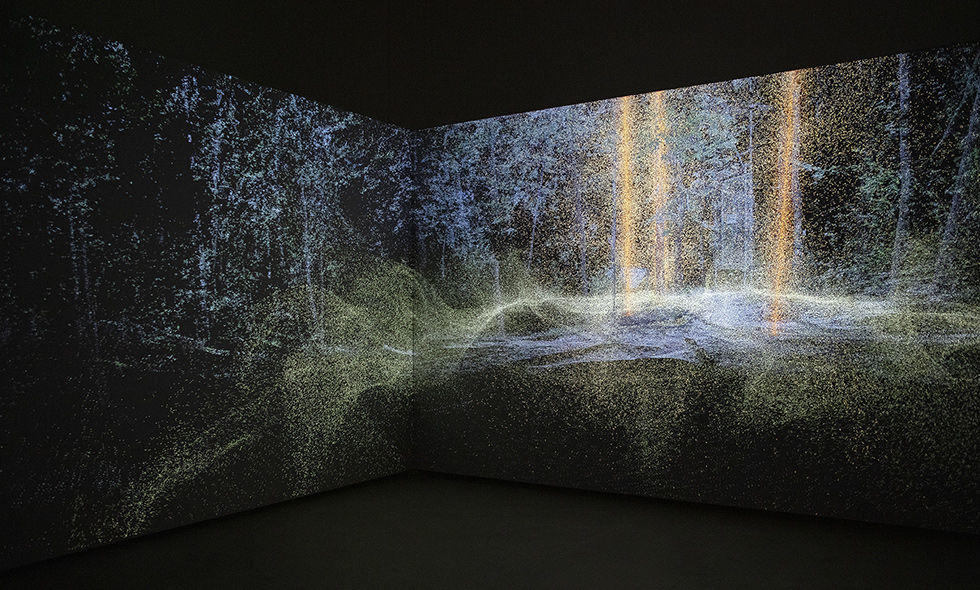 Atmospheric Forest

VR installation (point cloud and data viz) / Multi-channel video and sound / Research documentation (interviews with scientists, resin experiments), 2020
... overall, the trees and the soil are breathing and their emissions reach far into the atmosphere ...
Atmospheric Forest is a large scale VR point-cloud installation that visualizes and sonifies the relations between the forest and climate. It reveals the interaction patterns between the pine-tree emissions in Pfynwald, an ancient Swiss Alpine forest, and weather conditions in this valley, effected by drought.
The trees do not only produce oxygen, but they are living bodies who breath too. I.e., they emit part of carbon dioxide, sometimes even up to 20 perc. from what they have consumed. When trees die, they release all the carbon they have collected during their lives back into the atmosphere. Atmospheric Forest explores the effects of drought on local forest ecosystems, and how such stress situations influence production of resin and volatile emissions (such as usual pine-tree scent).
During the "Ecodata" research project (2017-2020) along with the emission data retrieved by scientists, the resin in Pfynwald forest was collected to further experiment with the "volatiles" of the forest – such as pine-tree forest smell – in order to reveal the patterns and interaction between emissions and weather. Volatile emissions from the trees are far reaching out into the atmosphere, contributing into the cloud creation, influencing climate and weather conditions locally and in the region.
This research is resulting now into the data visualization of forest emissions in VR environment, as well as hands-on experiments transforming pine-tree resin collected in Pfynwald forest into volatile substance (turpentine) and hard consistence (colophon) for creating sculptural objects.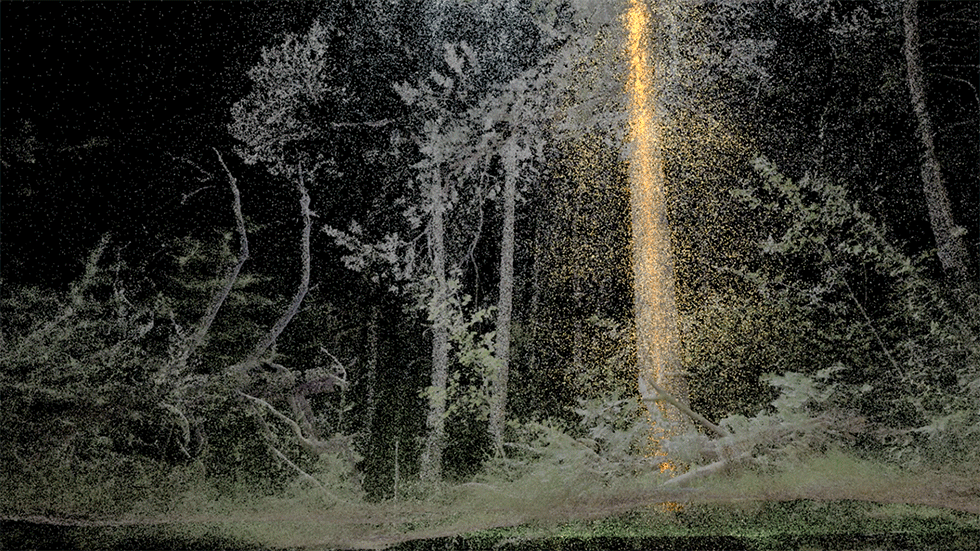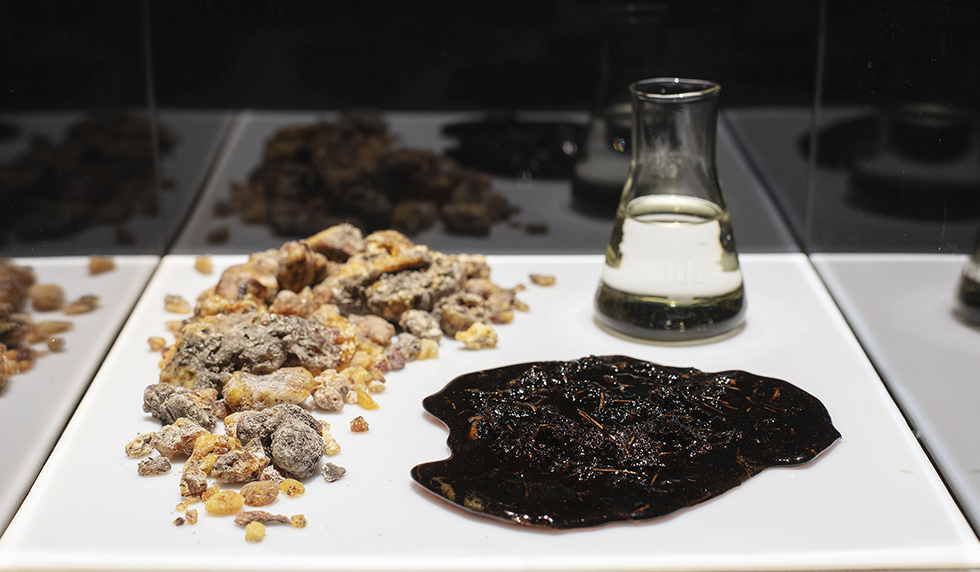 Artwork: Rasa Smite and Raitis Smits (2020)
Research: Rasa Smite
Ecodata (2017-2020) research project led by Yvonne Volkart, supported by Swiss National Science Foundation, hosted by The Institute of Aesthetic practices, HGK FHNW, Basel, Switzerland. Partners: WSL Institute.
Scientific advisers and data: WSL scientists / Switzerland, Kaisa Rissanen / Helsinki University, SignalHorn/Leuk.
VR programming: Kristaps Biters
EXHIBITIONS
Purvitis Award exhibition, Latvian National Museum of Art, Riga, 2021
Solo exhibition Atmospheric Forest, RIXC gallery, Riga, 2020
Critical Zones exhibition, curated by Peter Weibel and Bruno Latour, at ZKM, Karlsruhe, 2020
Critical Zones online exhibition, ZKM, Karlsruhe, 2020
"Atmospheric Forest" (VR video preview) was first presented in the Research Day at Basel Arts and Design Academy, December 6, 2019