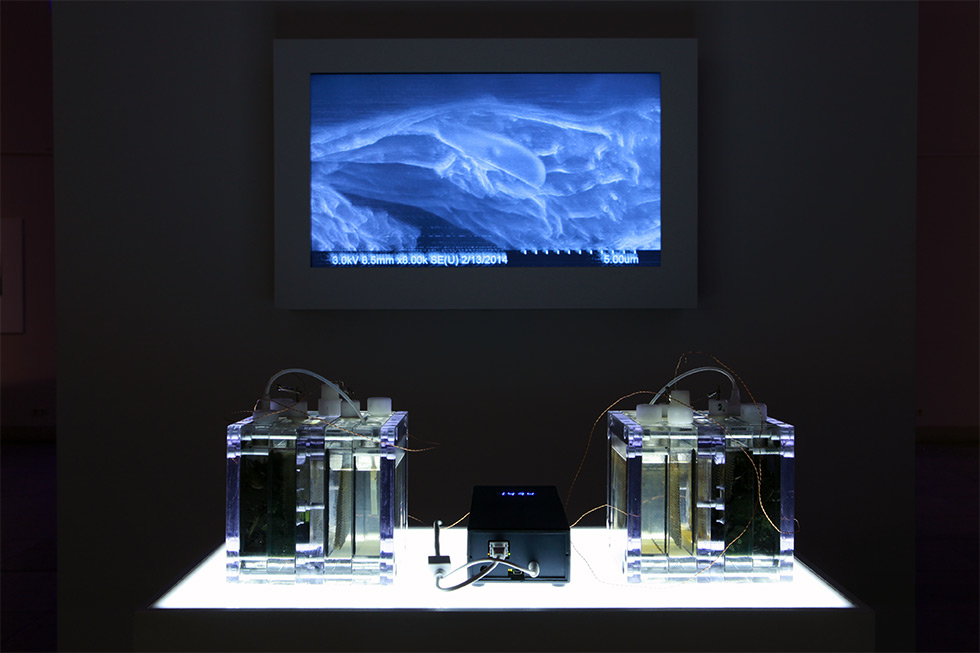 BIOTRICITY
Realtime visualisation and sonification of bio energy
Rasa Smite, Raitis Smits in collaboration with Voldemars Johansons
The installation consists of a double cell "bacteria battery", where the electricity is generated by micro-organisms living in a mud. The fluctuation of bacteria electricity is interpreted into realtime stereo-sound structures. Simultaneously, the video on the screen is manipulated by the live sound and interpreted into realtime glitch visualisations. The installation is/can be complemented by digital prints with the electronic microscope images showing the bacteria environment in different scales.
Biotricity is an art science experiment series that explore local ecosystems for envisioning renewable future scenarios, by reconsidering our relations with nature and technology, biological and social systems, human and microorganism worlds. The MFC is the next generation bio technology that converts chemical energy to electrical energy by using microorganisms – bacteria found in the mud, sediments of the pond or sewage.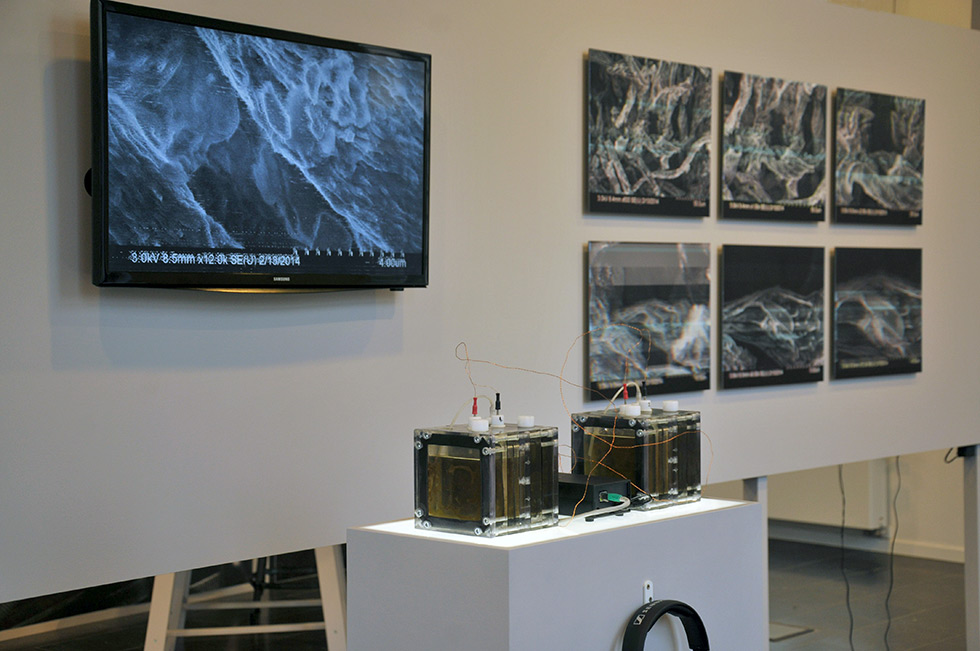 We have developed a monitoring system that transmits continues measurements of bacteria created electrical energy over the Internet in realtime. Continuous measurements deliver visible and audible impressions of this form of electricity generation. Someday, this technology could be used to upgrade waste treatment facilities into power plants. Biotricity project creates new sensual and emotional experiences – a poetics of green energy.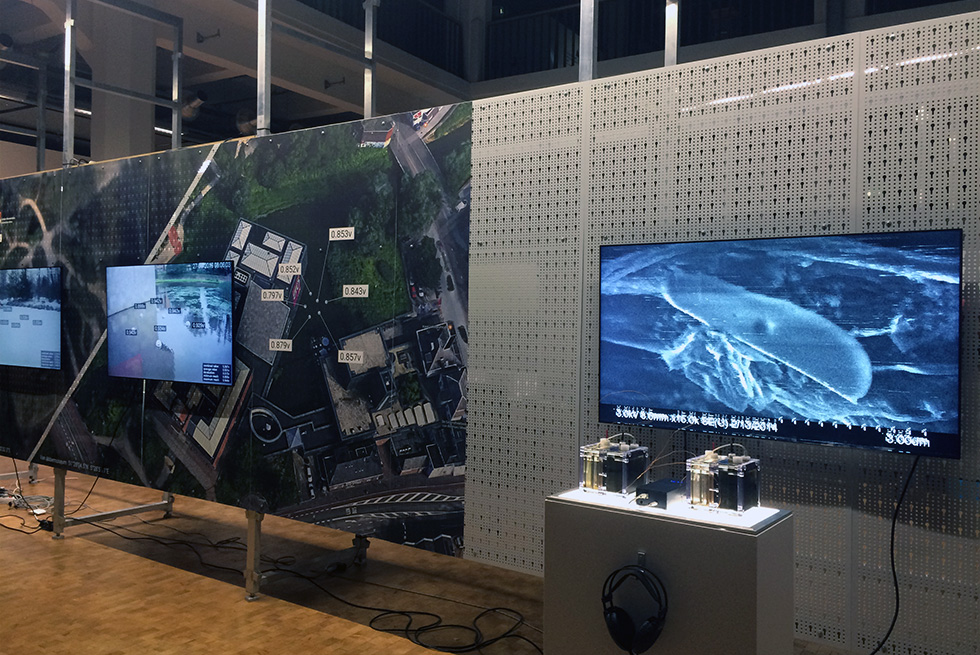 Credits: RIXC – production; Rasa Smite and Raitis Smits – artistic concept, visualisation, graphics; Voldemars Johansons – sonification; Janis Jankevics – video editing; Arturs Gruduls – scientifc solutions; Solid State Physics Institute of Latvian University.
EXHIBITIONS
Eco Visionaries, Laboral, Gijon, Spain, May – October 2019
Open Codes, ZKM, Karlsruhe, Germany, October 2017 – June 2018
Art Vilnius 2017, Vilnius, Lithuania, June 2017
Le Festival du Design, Les Arts Codés, Paris, France, June 2016
Transformative Ecologies, Maison Du Design, Mons, Belgium, August 2015
Green Room exposition, National Museum of Science and Technology, Stockholm, Sweden, April 10 – July 10, 2015
Kiblix 2014: Paralele/Paraleles, Maribor, Slovenia, October 2014
Copenhagen Alternative Art Fair Alt_Cph14, Copenhagen, Denmark, September 2014
Fields, Arsenals Exhibition Hall of the Latvian National Arts Museum, Riga, Latvia, May 15 - August 3, 2014