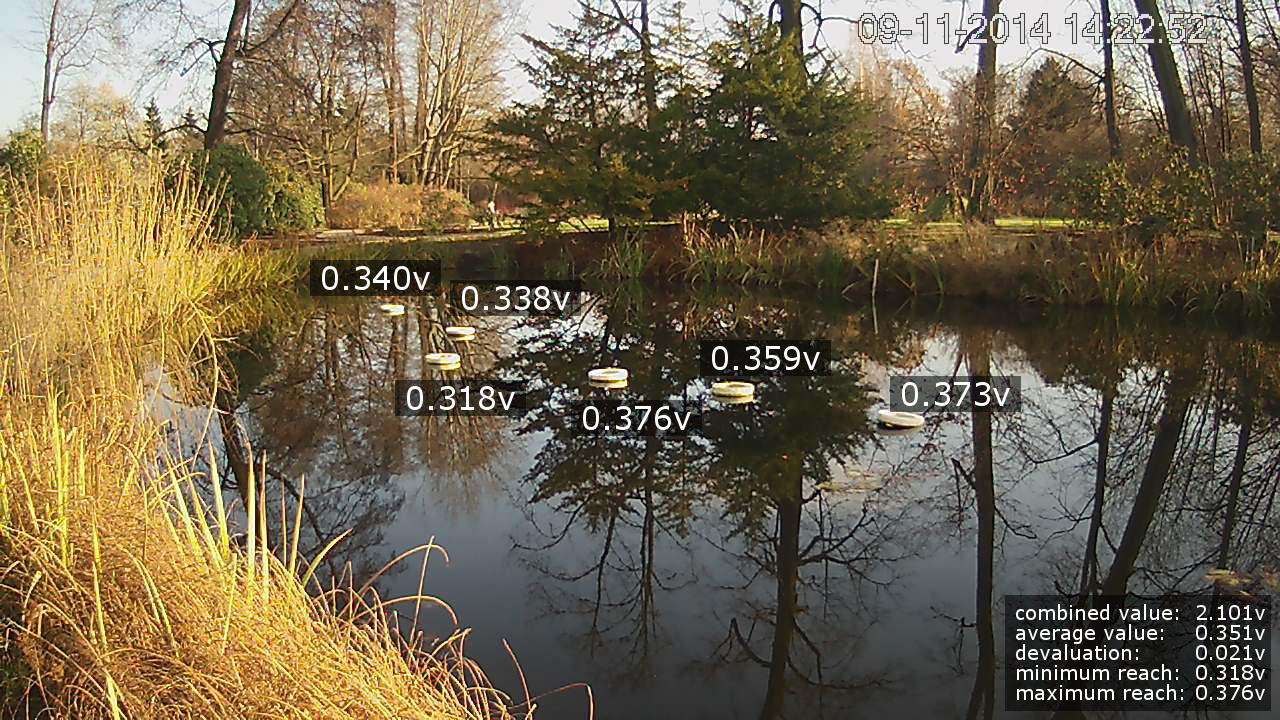 POND BATTERY. A Poetics of Green Energy
Time lapse video (10 min.)
Pond Battery video visualises the electrical energy generated by MFC (Microbial Fuel Cell) in outdoor conditions during seven month time period from September 2014 to March 2015. Work is a part of Biotricity project series an ongoing art and science research project, exploring dynamics of local ecosystems for envisioning the renewable future networks.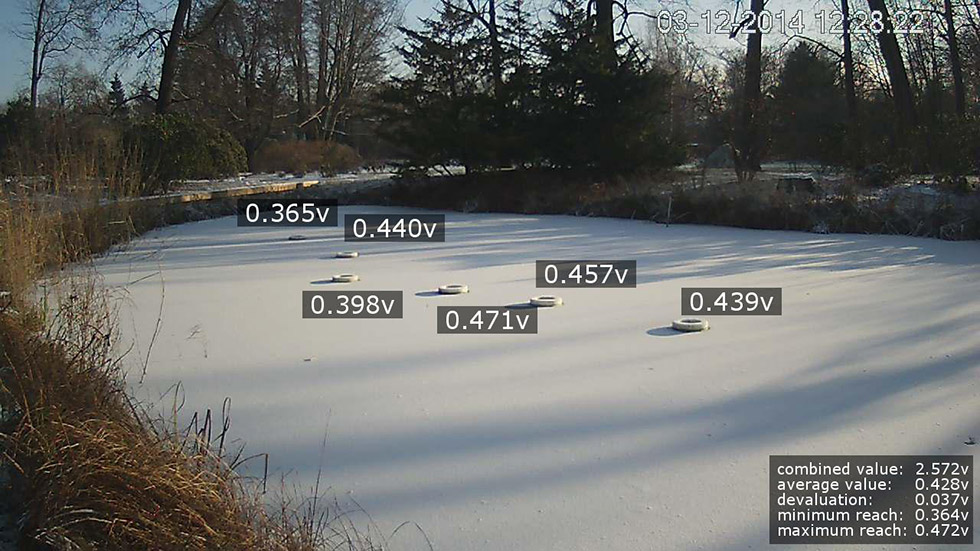 Recored Internet camera images and data from the fuel cell monitoring during the seven month long observation period are now interpreted into time lapse video, complemented by a sound composition.
Pond Battery installation includes six outdoor microbial fuel cells, six channel live generative sound installation, realtime Internet camera and website visualising electrical power fluctuation of each fuel cell. In the summer of 2014 six microbial fuel cells were installed in the pond of Botanical Garden of the University of Latvia in Riga. Live Internet camera images and continues measurements of bacteria electricity fluctuations, were delivered live on the Internet, thus making audible and visible the invisible activity of nature. Electricity generation process was interpreted into live sound and image structures, providing an aesthetic perspective on the interaction between nature and technology, ecological systems and electronic networks, human and micro-worlds. Collected data from the seven month long observation period are transformed into data visualisation, video and sound, creating sensual and emotional experiences – a poetics of green energy.
Credits: RIXC – production; Rasa Smite and Raitis Smits – artistic concept, visualisation graphics, sound composition; Voldemars Johansons – sonification; Martins Ratniks – video editing; Arturs Gruduls – scientific solutions and monitoring; Solid State Physics Institute of Latvian University – partner, scientific solutions; Aigars Alnis – programmer, technical support.
EXHIBITIONS
Screening Series: From Matter to Data: Ecology of Infrastructures. Post MoMA, July 29 – August 12, 2020
Open Codes, ZKM, Karlsruhe, Germany, October 2017 – June 2018
Art Vilnius 2017, Vilnius, Lithuania, June 2017
Le Festival du Design, Les Arts Codés, Paris, France, June 2016
Piksel Festival Exhibition, Bergen, Norway, November 2015
Transformative Ecologies, RIXC gallery, Riga, Latvia, October 8 – November 22, 2015
Poetiques des Flux exhibition, Toulouse, France, September – October 2015
Transformative Ecologies, Maison Du Design, Mons, Belgium, August 2015
Green Room exposition, National Museum of Science and Technology, Stockholm, Sweden, April 10 – July 10, 2015
Pikslaverk Festival Exhibition, Reykjavik, Iceland, May 2015