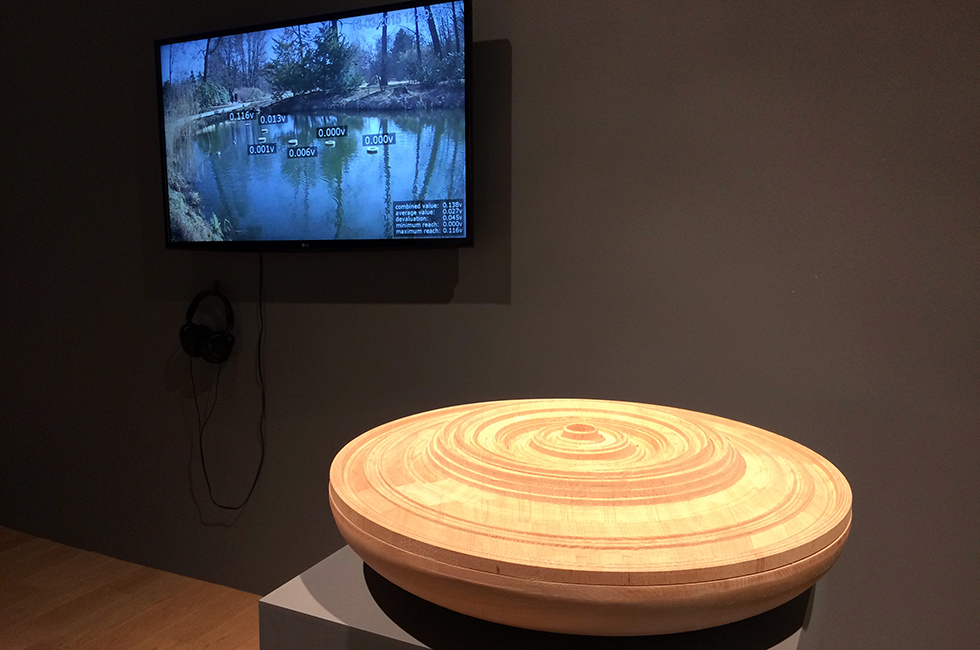 POND BATTERY. FLUCTUATIONS OF MICRO WORLDS
Wooden data sculpture, time lapse video
3D milled wooden sculpture visualises the electrical energy generated by MFC (Microbial Fuel Cell) in outdoor conditions during seven month time period from September 2014 to March 2015. The beginning of the time period starts at the centre of the circle and the outer edge of the circle shows the end of this period.
Work is a part of Biotricity project series an ongoing art and science research project, exploring dynamics of local ecosystems for envisioning the renewable future networks.
Pond Battery is a continuation of Biotricity art-science research project carried out by RIXC – Riga based artist collective. To monitor the bacterial electricity generation process in out-door conditions, RIXC artists use contemporary language and tools of science and innovative technologies. Last summer six "bacteria cells" were installed in the pond of Botanical Garden of University of Latvia in Riga. Live web-cam images and continues measurements of bacteria electricity fluctuations, were delivered live on the Internet, thus making audible and visible the invisible activity of nature – such as was is happening at the bottom of a pond, and which otherwise we can neither see nor hear. Collected data from the seven month long observation of the Pond Battery – from summer to winter, are transformed into visualised data landscapes, video and sound composition, creating sensual and emotional experiences – a poetics of green energy.
Credits: RIXC – production; Rasa Smite and Raitis Smits – artistic concept, visualisation graphics; Martins Ratniks – video editing.
EXHIBITIONS
Art Vilnius 2017, Vilnius, Lithuania, June 2017
Open Fields, National Library of Latvia, Riga, Latvia, September 29 – November 2, 2016