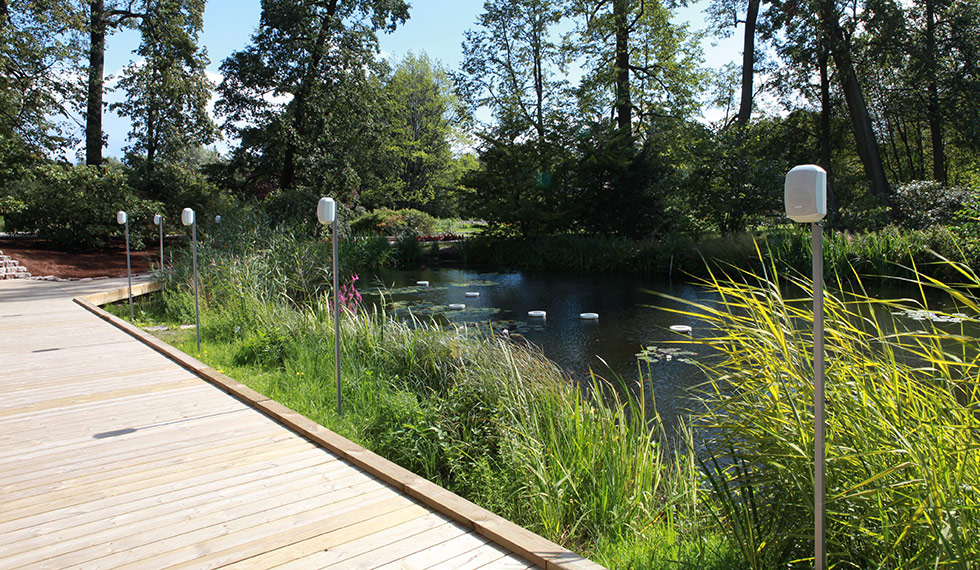 POND BATTERY
Outdoor bio energy sonification 6 channel sound installation
Rasa Smite, Raitis Smits in collaboration with Voldemars Johansons
Pond Battery monitors the bacterial electricity generation process in out-door conditions. Live sound installation consisting of six loudspeakers and six microbial fuel cells was setup in the pond of Botanical Garden of the University of Latvia in Riga in summer 2014. Realtime web-cam images and continuous measurements of bacteria electricity fluctuations were delivered on the Internet. Work is a part of Biotricity project series an ongoing art and science research project, exploring dynamics of local ecosystems for envisioning the renewable future networks.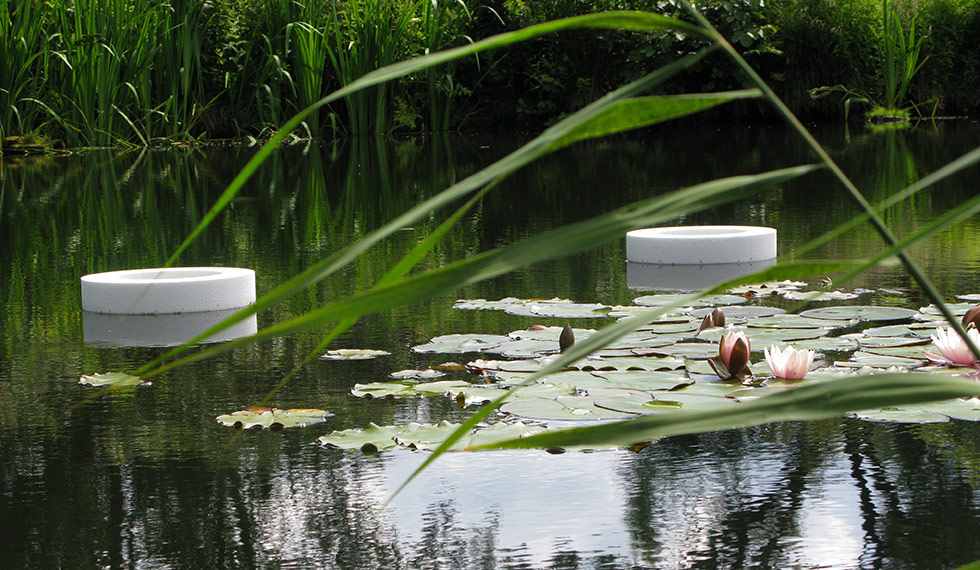 Pond Battery installation includes six outdoor microbial fuel cells, six channel live generative sound installation, realtime Internet camera and website visualising electrical power fluctuation of each fuel cell. In the summer of 2014 six microbial fuel cells were installed in the pond of Botanical Garden of the University of Latvia in Riga. Live Internet camera images and continues measurements of bacteria electricity fluctuations, were delivered live on the Internet, thus making audible and visible the invisible activity of nature. Electricity generation process was interpreted into live sound and image structures, providing an aesthetic perspective on the interaction between nature and technology, ecological systems and electronic networks, human and micro-worlds. Collected data from the seven month long observation period are transformed into data visualisation, video and sound, creating sensual and emotional experiences – a poetics of green energy.
Credits: RIXC – production; Rasa Smite and Raitis Smits – artistic concept, visualisation graphics, sound composition; Voldemars Johansons – sonification; Martins Ratniks – video editing; Arturs Gruduls – scientific solutions and monitoring; Solid State Physics Institute of Latvian University – partner, scientific solutions; Aigars Alnis – programmer, technical support.
EXHIBITIONS
Skan, LU Botanical Garden, Riga, Latvia, July 1 – August 20, 2014